Dr. Evelyn Catuira, Diamond Bar Dentist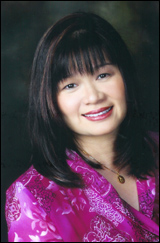 All our professionals at Dr. Evelyn Catuira maintain the highest levels of accreditation and pursue ongoing education to stay abreast of the latest trends in dentistry.

Education
1993 - B.S. Biology from California State University of Los Angeles
2000 - D.D.S. from Loma Linda University
2004 - 2005 -- 64 hours of continuing education in Orthodontics for General Practitioners
2005 - 2006 -- 54 hours of continuing education in Diagnosis and Treatment of Temporomandibular Disorders
2007 - 2008 -- 64 hours of continuing education in Orthodontics for General Practitioners
2008 - 2009 -- 32 hours of continuing education in Orthodontics for General Dentistry
Memberships
American Dental Association
California Dental Association
Tri-County Dental Association
International Association of Orthodontics
Here are how some of her patients/co-workers find her:
"Dr. Catuira is a fabulous dentist!! She takes her time and has always made me feel comfortable. I highly recommend her, you will not be disappointed!"
- Marita Paz
---
"It is not easy to find a dentist these days that you can trust.
I'm very happy to have Dr. Catuira as my friend and TRUSTED dentist who knows exactly her profession, Friendly crew and the TIME that she spend on you is precious, always she make sure you are happy and satisfy with the job before you leave.
As my jobs is required, I moved so many times place to place and state to state, I've experienced many dentist time to time, such a wonderful Dr. she is, even I will come to her from east coast to have her work on my teeth or even visit her.
Where you can find a dentist work on you late PM hours, late weekend hours.
After all jobs done you will be pleased to know such a nice doctor and you will recommend her to others.
PS. Diamond Bar you are lucky to have Dr. Catuira in your community."
Best regard: Bijan
---
"I have been a patient of Dr. E. Catuira for a number of years. I became her patient after reading her educational background. She graduated from the prestigious Dental School University of Loma Linda. I stayed since I enjoy having a competent, no-nonsense and caring professional provide the service that I need. I got tired of going to Dentists that have you wait for hours before being seen, hours of sitting for something as simple as cleaning then trying to convince you to undergo an unnecessary dental service.
I have stayed with her this long, even after having to moved to South Orange County and continue to drive over 50 miles (one way) just to make my dental appointment. She now provides Dental Services to my family including my parents and siblings.
Please note that I was not paid for the above compliment. You may call me directly if you need to ask more questions."
Sincerely,
Lianna DeQuardo
(949) 466-2777
---
"I've been to many dental clinics and dentists before, and finally I found the best one that I can recommend - the CATUIRA FAMILY DENTISTRY.
It is conveniently located in Diamond Bar and parking is not a problem. The clinic is very clean and it uses modem equipment. It accepts evenings and Saturday's appointments that you don't have to miss work on a regular work day. The staffs are well-trained, accommodating, and very friendly. And most of all - Dr. EVELYN CATUIRA, is a SUPER DENTIST! She gives a lot of concern, compassion, patience, and time for her clients. I love her!"
Gloria
---
"I have worked as a dental assistant for more than a decade and I have worked with many dentists throughout my career. I have had the privilege of working with Dr. Catuira for the past 4 years. Aside from her private practice she treats children from low-income families in an Orange County dental clinic. For a child, going to the dentist can be a scary experience. With her patience and compassion for these young patients, she makes them feel very comfortable about going to the dentist and they usually walk out smiling. In a world where everyone seems to be in a hurry, I think it's wonderful that she take the time to provide quality dental work and compassion for her patients. I am absolutely impressed by her dedication to detail and passion for her profession. I can say without hesitation that she is the best dentist that I have ever had the pleasure of working with."
Valerie Turner, RDA
---
"Going to Doctor Catuira has been an absolute pleasure for the both of us. Instead of dreading a visit to the dentist we now look forward to going. Dr. Catuira and her staff are like seeing family members (the ones you actually like) and treat you like one too."
Andrew and Karen
Chino Hills
---
"Dr. Catuira is fabulous! Very thorough with her work. I was nervous about getting my wisdom teeth pulled. She did a great job calming me down as she went through the process."
Review of Dr. Evelyn Catuira - General Dentist
Posted On DR.Oogle Dentist Guide